11 Top Tips for Local SEO
Local SEO is essential to smaller businesses that operate on a regional level. Whilst national SEO focuses more on ranking in searches across the country, local SEO priorities appearing on SERPS (search engine result pages) in a specific location instead. Incorporating local SEO into your overall marketing strategy is vital in order to get more local leads. Here are 11 top tips for local SEO.
Do Keyword research
Carry out keyword research in order to find out which towns or cities are the most popular for your services. These tend to be the places with the highest population. Alternatively, it could be the areas that are more affluent.
Optimise unique landing pages
You should be optimising unique landing pages for keywords that contain a specific placename. For example Digital Marketing Agency Lincoln. When doing this, make sure the meta title is less than 64 characters so it doesn't get truncated. Optimising your landing page can be hard to do which is why our SEO Services are here to help.
Create unique copy
On each of these landing pages you should have unique copy which refers to the keyword about 3-5 times. Don't mention it too much as it could be seen as keyword stuffing which is frowned upon and will adversely affect your SEO efforts.
Get regular reviews from your customers
Try and get your happy customers to leave a review once they have bought from you. Services like Trustist can help you do this effectively and conveniently. Getting reviews will help you get a star ratings in the organic results. This will look good to other potential customers as well as helps boost your organic rankings. People are more likely to buy from a place that has a large amount of postitive reviews.
Try and take the time to respond to your reviews on Google, especially any negative ones. Unless the individual user has posted a review that violates Google's terms and conditions, all reviews stay on the listing, including the bad ones. Therefore, the best approach is to respond to them in a professional manner.
Create a Google My Business and Bing Places listing
You should create Google My Business and Bing Places For Business listings for your business. Once you have created the listings, add as much information as you can. Include a business description, ensure your opening hours are correct, all your contact information is on there, plus information about any of your services. The more information you place in the listing, the more your listing will benefit from it.
Post special offers in your Google My Business listing
One way to take your Google My Business listing to the next level is by posting special offers and any business news to your listing. These can both help improve your changes of appearing in the prime map listing locations.
Use social media posts that link back to your website
You should be creating posts on Facebook and other social media channels that contain a link back to your website. Try and do this at least once every two weeks as a bare minimum. The key here is consistency and avoid going long periods of time without posting. If you don't have the time to manage your social media, it might be worth investing in Social Media Management Services.
Check other local listings
Check other local listings such as Yell to ensure that all the business information they have on you is accurate and amend anything that needs changing.
Optimise for voice search
People are increasingly turning to voice-activated devices, such as Amazon Alexa to answer their questions. Therefore as part of your Local SEO strategy, you should optimise how people ask questions when they speak on their devices. This will vary slightly from how people usually type out their searches.
With voice search, customers are asking questions and using more long tail keywords compared to a regular typed search. This will help you create content on your site that fits in with the more conversational tone of someone speaking.
Publish regular news
Search engines prefer sites that are regularly updated and also prefer sites that publish current news. When you are creating content, try and incorporate blog posts that are focused on local news stories, activities, or events that are relevant to your local area. If you're short on time, focus on creating evergreen content instead.
Optimise your website for mobile
Whilst this is not specific to local SEO, ensuring your website is optimised for mobile is so crucial, we have added it to this list. More people use their mobile to search for products and services now over a PC, therefore companies should make sure their websites work well on mobile devices. Ensure your website loads quickly, and use fonts that are easy to read no matter what the mobile screen size is. You should also check the use of images and text to ensure everything still looks good on mobile and is easy for customers to understand.
Optimising your local SEO means that you can get more traffic to your website which will in turn produce more leads and conversions. This strategy is more relevant to your local customers and is a focused way to help you compete more efficiently and effectively against larger national brands that have unlimited resources to spend.
Without local SEO, your business could be losing out on a significant amount of traffic. So it is worth giving these top tips for local SEO a go!
DBS Digital provides Local SEO Services to put your mind at ease and drive quality organic traffic and get your search ranking higher. Our dedicated team is here to help.
Sign up to our newsletter
Get regular hints, tips and updates on internet marketing and web design.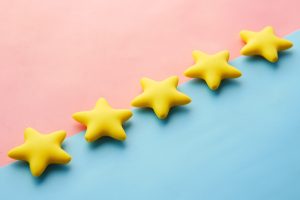 An overwhelming majority of consumers read reviews when looking for a local business. It takes several positive reviews before the trust is earned by the potential customer. This is even before they decide to use your service. Whilst a positive review clearly is a powerful thing, a negative review can also be damaging to a…
Read More