Building a marketing promo sounds easy, and it can be. But promos tend not to be very effective unless they are planned well. They tend to fizzle out in a blur of failure, disappointment and dejection. Digital Marketing Services are here to help so they stand out and don't fizzle out!
However, when they are planned well, they can build such a hype that the promo owner starts getting other problems; good problems, such as stock management, delivery times and website overload.
As the UK emerges from the COVID-19 lock down, a promo is one way that a cleaning company can begin to fill their calendar slots. Some people might think that with no income for the past two months there's no chance of running a promo, there's simply no cash flow. That's okay, we'll explain how you can run a promo with and without investing any money. But before we go into the details of how to run an effective promo, let's make sure we're all talking from the same page.
What is a Promo?
A promo, or promotional marketing, pertains to the use of special offers or time-sensitive discounts intended to create value, develop brand awareness and build an audience.
In short, by running a 10-20% promo on first post-Corona cleans, Time For You franchisees can begin to fill calendars in advance, therefore making it easier to manage cleaners, predict income and build a new post-Corona audience.
How to run a Promo?
You might be tempted to add a voucher to your website, post a Facebook post telling everyone about and then sit by the phone with your calendar with a cup of tea, waiting for the bookings to come in. Well, take a flask because you might be there a while.
What you need is a plan.
Like any form of marketing, we're going to be driving traffic to your website and social media platforms. Therefore, it's important to make sure the website and social media platforms are set up to convey the same message as our promo.
The Website
Let's say you want to offer 20% discounts to all cleans in June 2020, for example. You'll be using promotional tools that tell your audience of your promotion and directing them to your website. That very message needs to be near the top of the page. There can be no ambiguity. The visitor will be making subconscious decisions in those first few seconds. They might be doubting the credibility of such an incredible offer. The chances of them leaving your website in the first few seconds are high. You need to keep them there.
Ensure there are plenty of Calls to Action (CTA). A CTA is often a button or a link that asks the visitor to click here to email, or to call. A CTA for your promo might say something like, 'Click Here For My 20% Discount'.
CTA's should be placed strategically throughout the web page so the visitor doesn't have to search for a way to contact you.
If you need help with adding promotions to your website then our Website Services can help.
Social Media Platforms
Let's start with Facebook. Building a marketing promo on Facebook is an absolute dream. The tools Facebook provide, if used correctly, are beyond most other social media platforms.
Most marketing campaigns rely on a few basic concepts. There is an order of events that take place, a journey of sorts, that are proven to work.
The Graphic
.First of all, we need to capture the attention of the visitor. A graphic works well. this can comprise of an image with a text overlay. The image, for example, could convey the happiness and satisfaction of having a clean house. The text, which should take up no more than 10% of the image, should be enticing and it should deliver the promotion message in concise language.
The Headline
The head line should be short and as enticing as the image. A short sentence using a maximum of six words if possible. Try to get the offer in early, for example; 20% Discount On All June Cleans.
The Copy
Sales copy is a skill. The graphic and the headline have captured the viewer's attention, but you still have a matter of seconds to keep them interested. There is no room for waffle.
You are offering a solution to a problem. Remember that. The viewer may not even realise they had a problem before they saw your ad, they were browsing Facebook and saw your lovely graphic. They saw the enticing headline and now, you're going to explain to them that they have a problem. You do this by asking them questions that will resonate with them. The sales copy breaks down like this:
Are you tired of coming home to housework? Does cleaning get in the way of family time? Do you want more Time For You?
Try not to overload the copy with questions. You need just enough to build some momentum. Three is an ideal number to aim for.
This is where you reveal your superhero outfit and offer the only solution they need to solve that problem and as a bonus, they'll even get a discount if they book now.
These days people are often sceptical about online deals. They might need convincing that the offer is legitimate. it does have to be long, but try to come up with a sentence to do this. How long has the franchise been in operation? What is the average review rating? You just need something to ease their mind before they take the next step.
The CTA is the instruction at the end of the copy. The CTA should convey urgency and be authoritative. For example, try not to use the word 'Please' in the CTA. Use short simple terms such as 'Book Now' or Call Us Today'.
The Copy Summarised
So now you have the 4 parts of the promotion copy. Try to keep them in that order.
Headline
Problem.
Solution.
CTA.
It's a good idea, while you are in the creative writing mindset, to create a variation of the sales copy and a second graphic. This is for reasons that will become apparent.
Cost-Free Versus Paid Promotion
So far, we've explained how to prepare your website for a promo and if you've created your graphics and promotion copy, you can start thinking about your plan.
You can either stick with a cost-free promotion or you could introduce some paid tools to help it along.
Whatever method you choose, you will need a plan. The more effort and attention to detail you put in, the more you will get out of it. That might sound like common sense, but it really is true.
The Plan
As we have mentioned, you will need a plan. Consider these questions to get you started:
How long is your promo going to run for?
What are your daily actions?
If you are going to use paid tools, what is the budget?
How are you going to record your results so you can run another, more effective promo later on?
We'll start with some cost-free promotion techniques.
Facebook Promo Tab
Familiarise yourself with the Promo tab on your Facebook business page. You'll find this on the left-hand side of the page along with the other tabs. Click here to read a guide on how to use the Promo tab. It's a great feature that should be utilised to full effect.
Try to keep the language similar to that which you used in your promotion copy. Familiarity will reassure the visitor that they are looking at the same deal, which is the only deal they need, right?
Facebook Posts
Okay, so now is the time to get your graphic and your promotion copy and create a Facebook post. At this stage, only people who follow your business page will see it, but that may be enough. Encourage people to share the post with their friends.
If you're using the cost-free method, you might want to post your second graphic and promotion copy a few days later.
You can then analyse which of the posts performed best.
Or, you can move onto paid tools, which really doesn't have to cost the earth. You can achieve great results from as little as £5 per day.
Facebook Boosted Posts
So, you've posted on Facebook and now you're ready to push it out to a wider audience. By using the Boosted Post method on Facebook, you can target by male or female, you can limit the audience to age groups and locations. You can even limit the audience to people's interests, of which the options are many.
Again, encourage people to share the post. With the Boosted Post method you'll be reaching people that may have never heard of your company so you should, if you graphic and copy is good, start to see some traction.
Better still. You can do what is called, Split-Testing. For example, you could post several posts and gauge the best response.
Graphic A with Copy A
Graphic A with Copy B
Graphic B with Copy A
Graphic B with Copy B.
From this, you will be able to determine the best graphic and the best copy to create a new post using both of these assets.
Once you have the optimal graphic and copy, you can then do some more split testing with audiences.
Optimal graphic and copy targeting Age group 1.
Optimal graphic and copy targeting Age group 2.
Again, you will find your ideal audience by analysing the results. All you need to do then is cancel the lesser of the two and continue with the best performing audience. You'll pay less per click as the audience will be more engaged.
Make the most of Facebook with Social Media Advertising. Boosting posts is a great way for getting messages across and for creating brand awareness.
How to manage the Promo
By using the plan that you have created, you should create actions to take every day. These actions should be measuring the performance of your promotion.
You should be measuring the following at the very minimum:
Facebook Post Views.
Facebook Page Likes
Enquiries
Bookings
You should also ensure that all those 'leads' that you have paid for, remember who you are. Some of them won't contact you right away. But if they clicked on your Facebook Post and liked your page, they will see your future posts. Now is the time to tell them who you are. Now is the time to demonstrate industry knowledge. Now is the time to tell them how satisfied your customers are.
You can do this by posting a FREE post (or two) every single day. Make sure your plan includes having reminders set to post something. We've discussed what to post in previous articles, but be sure to include a reference to your promo. Try not to be 'salesy', nobody likes too much of that. And just be yourself.
The Summary
Hopefully, you can see the value in a promo. When the COVID lockdown is over, you want a calendar full of bookings to work with. But you're not alone. Everybody wants a calendar full of bookings. So get ahead of the game. Offer them some value, even if the profit on the first booking is lower. It's a chance to convince each of those people that you are the cleaning company to use.
DBS Digital provides Digital Marketing Services and Website Services so you don't have to worry about doing it yourself. It is better to get it right by using professionals instead of damaging your business reputation with poor-quality ads/promotions. Our dedicated team is here to help.
Sign up to our newsletter
Get regular hints, tips and updates on internet marketing and web design.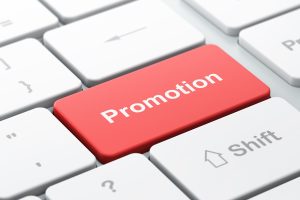 Building a marketing promo sounds easy, and it can be. But promos tend not to be very effective unless they are planned well. They tend to fizzle out in a blur of failure, disappointment and dejection. Digital Marketing Services are here to help so they stand out and don't fizzle out! However, when they are…
Read More