How to Improve the Customer Journey on your website
You need to ensure that from the moment a user lands on their website, they are guided in the right direction so that they end up converting. This is known as the user or customer journey. You need to make it as easy as possible for visitors to get the information they want and in turn, feel enough trust in your company that they want to go on to purchase or use your service. It can be daunting to know where to start, so we are here to show you how to improve the Customer Journey on your website.
Create buyer personas
Buyer personas represent your typical customer. Imagine you are a customer and think about what their pain points are. Why have their arrived on your website? Who are they? How old are they? What is their occupation? Their motivations? What is their lifestyle? These are just some of the questions that can help you paint a clear picture of your average customer. This in turn can help you realise what information you need to include on your website in order to help them through the conversion funnel – the journey from awareness of a brand to an action such as a purchase.
Do not feel limited to only one buyer persona. It is more than likely that your business will have several groups of people and each one should be represented with its own buyer persona. However, start with one and build from there, rather than trying to address them all at once. Having a clear idea of your buyers will allow you to improve the customer journey.
Build a user journey map
Once you have the buyer personas, you should create a customer journey map. This is a visual representation of the journey your visitor may take. There are many paths they could take around your website and you need to map all of these possibilities out so that the journey continues to make sense to the customer. If your customer cannot find an easy path to carry out the action required (e.g. make a purchase or find your contact details) then this will lead to frustration. This frustration can lead the potential customer to give up and leave. This could cause the customer to turn to a competitor who has made the journey easier. A clear journey map will improve both customer journey and overall experience.
Start by thinking about what the end of the journey is. What is the destination and ultimate action you want your customer to take? Is it an eCommerce website and therefore a purchase is the end goal? Or is the ultimate aim for your prospect to fill out a form for a member of your team to follow up on or signing up to your company's newsletter? Whatever it is, the final destination should always be aligned with your business goals.
Guide users through the conversion funnel
Use the different stages of the conversion funnel to help you build your map. The prospect starts the process in the awareness stage which is triggered by them having a problem that they need solving. When they land on your website, you need to show them why your product or service is the solution they are looking for. You can do this by providing them with useful information throughout your website. Try and include a mixture of text and video resources so that people can easily find the information they are searching for. People absorb information best in different ways, some through reading and some through watching video, so having a mixture ensures you are covering all your bases.
It is important to note that customer journeys are rarely straight. Although we would love every potential customer to land on your website and immediately make the desired action, this is wishful thinking. In reality, customer journeys vary in length and can be messy paths. Customers may not enter the journey where you think they will. For example, they may land on a product or service page when you assumed they would land on the home page. This is why customer journey mapping is vital. You need to understand the different options and make sure the key information is prominent on all pages. The aim is for a customer to land on any page of your website and understand what action should be taken without it being difficult for them. This is why clear Call to Actions are vital.
Plot all of the touchpoints your customer will have
List all the places customers can engage with your website or company. Did they see your social media? See someone mention you on another website? Did they see your PPC advert? Knowing where your customers are coming from is vital for improving customer journey planning. You can use the behaviour flow report option of Google Analytics to help you understand where the traffic is coming from. However, you should also think about all of the offline touchpoints that are there as well. For example, were you at a trade show recently? Did you post some leaflets or perhaps your company was recommended via word of mouth? You may be surprised by how many touchpoints your website has.
Treat every touchpoint as a virtual date with the company. The more touchpoints a potential customer has with your brand, the more trust is established. Also, ensure each touchpoint should have its own goal. For example, the goal for a landing page may be for the user to watch a video or click on a Call to Action, or fill a sign-up form. Having a clear goal in mind is vital for improving the customer journey. Its important to structure your site and content based on your chosen goal.
Optimise your landing page
Decide what is your key landing page for that particular buyer persona (and note that it often isn't the home page). Each buyer persona has a specific need to if they have a certain need for a product or service you offer, the key landing page would be the page that has those items on. You may also have more than one landing page you need to optimise for each buyer persona. Your landing page is similar to a shopfront, potential customers will base their opinion of your business on this, creating a clear easy to use landing page will greatly improve the customer journey. Digital Marketing Services like SEO services can help you with things like optimising your landing page for better search ranking, page hyperlinking and layout of your webpage. Optimising the layout of your landing page is extremely important because first impressions count. Studies show that it takes 0.05 seconds for users to form an opinion about a website so it's crucial your website makes the right impression.
Top tip: Use analytics tools to help you determine which are your key landing pages. It saves you time guessing when you could in fact be focusing on the wrong pages. Let the data guide you.
Once you have chosen your key landing pages, decide where in the customer journey / conversion funnel the consumer most likely is.
Use A/B testing
You are unlikely to get the customer journey perfect the first time around. In fact, it's almost impossible to create the perfect journey. Even the biggest websites in the world are constantly amending and changing their website in order to improve the journey for a better user experience.
In order to understand what do and doesn't work, consider using A/B testing, or multi-variant testing. This is when you have different versions of the same page showing at the same time, to different users, but with small changes between the two. For example, a different heading or a Buy Now button in a different location. These changes may not seem like they impact the user journey much but the smallest things can make a huge impact. By constantly measuring and comparing you will receive enough data to learn how your customer moves through your website and what changes you can do to help this. Just make sure you only change one thing in each test so that you truly understand what is making an impact.
Educate the user
If a visitor is staying on your website or returning several times, then you know that they are further on in their journey and are definitely considering your business and interested in your product or service. Once they are at this stage it is down to you and your website to convince them that you are the best choice for them. A great of doing this is by educating them.
Provide your potential customers with lots of information that answer any possible questions they have about what you are offering. By creating content that answers these questions, you are not only showing them that you are industry experts and knowledgeable in your field, you are keeping them on your website for longer. Each piece of content a user consumes is another touchpoint with your brand and helps build the customer relationship.
Not sure where to start on what content to write? Start by thinking about common questions you get asked by customers. What are your customers' painpoints? If you have been asked something in the past, it is more than likely a question other potential customers want to know as well. You can also use Google and other search engines to discover what people are searching for. Once you have a list of questions, create articles, videos and guides to answer these questions.
Consider the visual appearance of your website
Whilst it is more important that your website functions correctly, you cannot avoid the visual aspect of your website. You do not need the fanciest looking website, however you should take care when choosing your layouts, colours and call to actions. They may seem like small details but they can make a massive difference to the appeal of your website.
Ensure your website is responsive
This is a must have considering the majority of internet users visit websites on their mobile phone. If your website is not responsive and fits to the size of the screen your customers are using, your site will look broken, unprofessional and potentially some parts may not work.
Try and personalise the journey
Try and stay one step ahead of your customer so that you are in control of your customer's journey. Wherever possible make the user journey as personal an experience as possible. For example, if they download a guide or fill out a form, follow up with a personalised email or phone call. This may not lead to anything however it shows that you have taken the time to be personal and this can help develop trust.
Another way of creating a personal experience is by highlighting previous purchases or content that users have previously looked at. Showing this is not only personalised, it makes it a lot easier for customers to continue their buying journey.
Customer Journeys are an integral part of the website designing process as it helps understand who your buyer personas are and how they will be interacting with your site. If a user cannot easily reach their goal and carry out the action you want them to then you know there needs to be some changes made. Each step of the process needs to be as easy and effective as possible for the client. If they have a simple and great user experience, there will be more likely to purchase again, recommend to friends or provide you with a great review. All of which are great for your company.
DBS Digital provides a Digital Marketing Service that will put your mind at ease and drive quality leads and traffic. Our dedicated team is ready to help.
Sign up to our newsletter
Get regular hints, tips and updates on internet marketing and web design.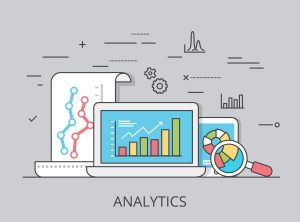 When you have a website you must make sure it is being effective and doing what you want it to. In order to do this, all websites should be using a form of web analytics as they can help answer the questions you are asking. Whilst many of us know that web analytics are smart and can show a range of information, what really…
Read More