Designing A Festive Website: Tips For A Merry Online Presence
Designing a festive website can create a warm and welcoming online presence during special occasions like Christmas. Here are some tips to make your website more festive and engaging:
Holiday Themed Banner
Create a festive banner or hero image for your website's homepage. Include Christmas decorations, images of your holiday products, or a holiday-themed logo. This immediately sets the tone.
Colour Palette
Use a Christmas-inspired color palette with traditional colors like red, green, gold, and silver. Make sure the colors are consistent throughout your website's design.
Seasonal Imagery
Incorporate Christmas-themed images and graphics throughout your site. Use snowflakes, ornaments, wreaths, or holiday lights to enhance the festive feel.
Decorate Your Logo
Add a touch of holiday spirit to your logo by incorporating seasonal elements, like a Santa hat or a wreath. This subtle change can make a big impact.
Seasonal Typography
Choose fonts that evoke a sense of festivity. Cursive or script fonts can add elegance, while bold sans-serif fonts may emphasize urgency or discounts.
Festive Product Showcases
Feature holiday-themed product showcases on your homepage. Highlight popular Christmas gifts or special holiday promotions to attract customers.
Interactive Features
Incorporate interactive elements like snowfall animations, holiday-themed games, or a virtual advent calendar. These can engage visitors and create a joyful user experience.
Holiday Greetings
Add a warm holiday greeting to your homepage or pop-up messages. Thank your customers for their support and wish them a happy holiday season.
Special Offers and Promotions
Display your Christmas deals prominently on your homepage. Use eye-catching banners or sliders to promote limited-time offers.
Gift Guides
Create Christmas gift guides to help visitors find the perfect gifts. Categorise products and provide gift recommendations for different recipients or interests.
Shipping Deadlines
Clearly communicate your holiday shipping deadlines to set customer expectations. Use countdown timers to remind visitors of the cutoff dates for guaranteed Christmas delivery.
Customer Reviews and Testimonials
Feature customer reviews that highlight positive experiences during previous holiday seasons. This adds credibility and trust to your site.
Social Media Integration
Connect your website with your social media profiles to encourage visitors to follow, like, and share your holiday content.
Email Signup and Newsletters
Promote email signups with the promise of exclusive holiday offers and updates. This allows you to maintain customer engagement beyond the holiday season.
Live Chat Support
Offer live chat support for customers who may have questions or need assistance with their holiday shopping. Prompt and helpful support can make a significant difference.
Mobile Optimisation
Ensure your festive website is mobile-responsive. Many shoppers use their smartphones for online purchases, so a seamless mobile experience is vital.
Festive Blog Content
Create holiday-themed blog posts with helpful content related to the season. This can include DIY gift ideas, holiday recipes, or tips for stress-free celebrations.
Festive Music
Consider adding background music with holiday tunes. However, make sure it's non-intrusive and can be easily turned off or adjusted.
Accessibility
Ensure that your festive design is accessible to all users, including those with disabilities. Use alt text for images and maintain readable text and contrast.
Test and Optimise
Regularly test your website to ensure that all features and elements work as expected. Make any necessary adjustments to improve user experience.
By following these tips, you can create a festive website that not only captures the spirit of the season but also enhances the overall online experience for your visitors, making their holiday shopping more enjoyable. At DBS Digital, we provide Website Services, such as Website Design tailored to your needs. Let us bring a festive touch to your website. To find out more, get in touch with our team.
Sign up to our newsletter
Get regular hints, tips and updates on internet marketing and web design.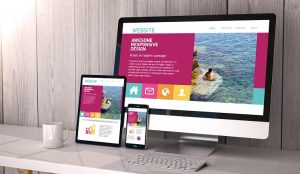 A new website is a large investment and something that needs to be planned and carried out carefully. Here are 13 common mistakes that can ruin your website. Getting too complicated It can be a common mistake to get carried away with different patterns and layouts on your website. Technology lets you create extremely sophisticated websites…
Read More